This is another custom for Gentle Touch Salon in Hazel Green. This one if for the owner, Barbara. The vanity was in pretty good shape with the usual knick and scratches, plus a broken drawer. It is as good as new now. I wanted to go with a dark teal color. It is actually the same color I used on my china cabinet. It is called Pond by Valspar.
I sanded her down to get rid of all the water marks, then I used a liquid sandpaper over the entire piece to be sure the paint would adhere. I painted two coats of Pond and then used my 220 grit sandpaper to sand down the edges and distress the piece. Then I decided to try something new (*scary*). I usually don't do well with new, but that all changed today! I went over the entire piece, concentrating hard on the edges, with a dark walnut stain. I LOVE this piece. I think I'll use this technique on my living rooms tables I've been racking my brain over.
Picture roll now. Hope Barbara loves it :)
before
Linking up at...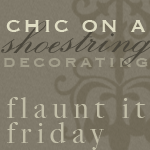 FEATURED AT